SHOWING JACKETS, etc. FOR SALE
Contact Stephenie, Cork 085 8667795
Top left
Showing selection size 25 pure wool green tweed, navy velvet collar, navy foxhead buttons, burgundy and navy box stripes,worn for Dublin first ridden class. Yellow SSL show shirt childs size L. Brown leather gloves lead rein/ first ridden size. Used but vgc. €80.
Top middle
Shires huntingdon green tweed show jacket navy velvet 1/2 collar, tweed with navy and gold stripe uk size 28, eu size 32. Pure wool. Used but as new. €40.
Top right
Navy pytchley show jacket navy velvet collar, gold buttons, pure wool, size 25. Brown leather gloves ssg size 4, lead rein first ridden size. Used but vgc. €70.
Bottom left
Dyed blue cotton shirt, age 7/8, pale yellow tally ho show jodhpurs size 24R age 7/8, navy red gold show tie and browband set, browband full length 14 inch, used but vgc. €35.
Bottom middle
SSL malvern green tweed show jacket, green velvet collar, plain buttons, uk size 30 eu 34, 65% wool. Small dark stain on front. Used but good condition. €20.
Bottom right
Sherwood forrest green tweed show jacket, tweed collar, 50% wool, lead rein size 24.
SSL yellow show shirt childs size medium, also dyed pink tiny shirt, tiny green gloves size 4, dublin yellow show jodhpurs size 22. all used but good condition. €45.
Contact Stephenie, Cork 085 8667795
SILHOUETTE SADDLE FOR SALE (above)
Leather and suede show saddle for sale.
Suit 133 cms (13 hand) pony.
€400 ONO
SIDESADDLE FOR SALE (above)
Ladies side saddle for sale.  Suit Horse 153cms and above.  Perfect condition as new.  Leather and suede Havana colour.  Can also be used for side saddle jumping as adjustable pommel.
€1500 ONO.
BERNEYS SHOW HUNTER DOUBLE BRIDLE
Havana with mullen mouth pelham bit.  Narrow Laced reins by Fylde.
Suit 133 cms (13 hand) pony.
€180 ONO
RIDING JACKETS FOR SALE
Pretty Ponies grey pinstripe with pink lining size 28″ as new.
- can be seen on Pretty Ponies website.
2 Mears navy child's jackets sizes 24″ and 26″
Child's Mears tweed size 22″ green/brown plain collar.
All in perfect condition.
Girls showjumping jacket from Cavalliera navy with embroidery on the back size 140cm.
Girls Alexander James tweed jacket size 26″.
Ladies Alexander James tweed jacket size 10.
"IDEAL" WORKING HUNTER SADDLE FOR SALE
16.5″, Brown Saddle in excellent condition. €320 ono.
087-9231815
TACK & DRESS FOR SALE
Suitable for 148cm & 158 small hunter, show pony/showhunter
Brown with small knee roll.
Custom made by Tony Goodwins saddlery, excellent condition. Valued €350.
148cm Double bridle.
Caldene navy wool ladies riding jacket, new, size 36.
Mears ladies show hunter jacket, green tweed. Size 91″ 36.
Tallyco beige brs new size 28L.
Contact Carmela 087 639 3679
DUBARRY BOOTS
One pair Dubarry Wexford Walnut Knee-high boots for sale. Zip at side. Size 39. Worn once. Unwanted gift. Cost €400 – sell for €250. Telephone 087-2896117
JODPHURS, SHOW JACKET, ETC
Tally Ho Canary Coloured Jodphurs For Sale
1 Size 30 regular
1 Size 30 Long
Five Pairs of Size 26 Long
Also Size 34 Mears Green Tweed Boys Show Jacket (as new)
Childs Green Show Tie with gold spots still in packaging
Size 28 Yellow show shirts
Two Fylde saddles
17″ wide Marjorie half leather/half suede £450
17″ wide Marjorie all suede £400
Telephone Julie 087-11959019WORKING HUNTER SADDLE FOR SALE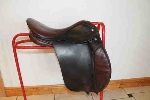 16.5 Inch, Medium Width, Brown English Leather. Good Condition. €295.00
Telephone 087-6956951